Training at PICAC
To see the different courses, including detailed descriptions, dates and fees, offered at PICAC please click on the links below.
Business Development and Plumbing Licence Level TRAINING
OHS and High Risk License Training
Fire Industry Training (RTO: 22101)
Master Plumbers Training (RTO: 3937)
For a PDF version of the PICAC Training Schedule please email info@picac.vic.edu.au
---
More about training at PICAC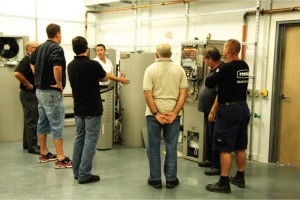 PICAC is a practical training centre for the plumbing industry that offers integrated education and training programs in cutting green house gas emissions, saving water and generally addressing the key issues around climate change and the sustainability of our buildings.
This is a centre of excellence supported by all – an initiative that has bought together key industry employee and employer groups as well as training bodies so the building design meets key sustainability requirements now and into the future.
Growing interest in plumbing careers
An adequate supply of plumbers to meet the challenges of climate change is as important as making sure that our current workforce has the skills they need. Young people enjoy the positive consumer reactions to the new green plumber image, which is particularly relevant to new entrants considering their career choices.
We also need to enhance the skills of established plumbers by promoting the green aspects of plumbing add another dimension to their skill base and expands the role of experienced plumbers.